Creative evaluation: Seekers Create's student voice activities transform evaluation at University of Portsmouth Creative Forces event
Posted in Views by Katherine Lawrence
As we approach the publication of the SCiP Alliance Hub Leads group's national evaluation of the long-running Creative Forces programme, I was interested to read University of Portsmouth Outreach Manager, Tian Barratt's reflections on the impact of their work with Seekers Create. The University of Portsmouth, SCiP Alliance South Hub lead, has built on its history of successful Creative Forces events with a new approach to evaluation that puts student voice front and centre.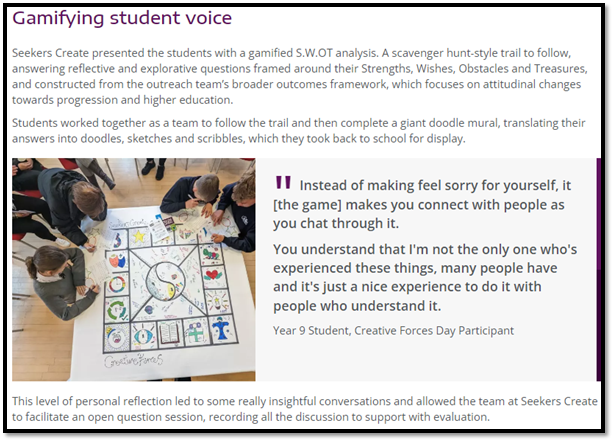 In addition to participating in the national evaluation through which universities share anonymous quantitative data on responses to core questions, Tian felt that the strengths-based, creative approach to capturing student voice through the collaboration with Seekers Create will
"help to share the voices of these young people to improve knowledge and understanding among their school staff, their peers and across the education sector, helping other universities to make the case for the inclusion of Access and Participation Plan targets relating to service children."
Tian's 'key takeways' are:
1. Identify partners for collaboration that share your values
Partners that resonate on a personal level. If they resonate with you, they'll probably resonate with your audiences too.
2. Loosen your grip on that project brief
Having a clear brief is important, but if you're collaborating with someone because they're creative, then let them be creative. When it comes to something as indefinable as student voice, the risk could be worth the reward.
3. Make qualitative data your friend
As outreach practitioners we feel a pressure to prove impact, and it is important, but we inevitably resort to quantifiable statistics to demonstrate the value of our work, because that's the nature of the environment we're working in. But don't be afraid of engaging in student voice activities because it won't yield data that can be neatly packaged up using the Likert Scale.
Read Tian's full blog article about creative evaluation here
The SCiP Alliance national Creative Forces evaluation is being led by the South West Hub's University of Plymouth and will be published in the Autumn.